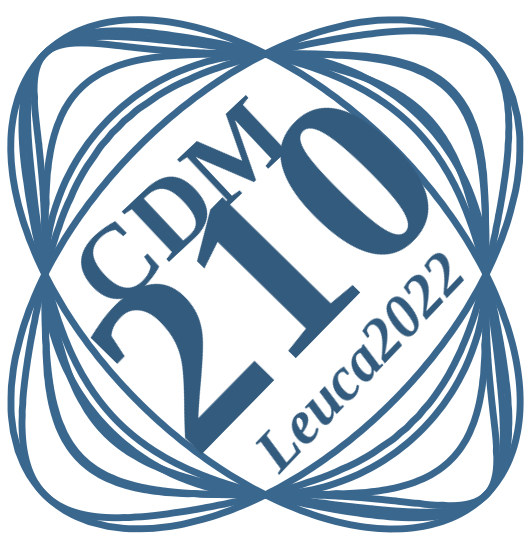 Leuca2022
Celebrating Claude Levesque's, Damien Roy's and Michel Waldschmidt's birthdays
Joint with the sixth mini symposium of the Roman Number Theory Association
May 16-21, 2022, Marina di San Gregorio, Patù (Lecce), Italy
Location and conference information


The conference will take place in the town of Patù in the Salento region, south east Italy. Patù is the smallest municipality of the province of Lecce. It is located at 4Kms from the Adriatic sea, 3kms from the Ionian sea and 3kms from southernmost point in Puglia, the city of Leuca. The exact location is San Gregorio, the marina of Patù on the Ionian sea.

The conference will be held at the Hotel Monte Callini which is a four star Hotel located 400 metres from the sea. The Monte Callini has about 43 rooms that will be all reserved for the conference and in total can host around 90 guest between single, double and triples. Participants have to make their own reservation at the Hotel monte Callini or at any other hotel, see below for a list of nearby hotels. Even if you are not staying at the Monte Callini hotel it can be arranged to have lunch and/or dinner at the Monte Callini hotel.


| | | | |
| --- | --- | --- | --- |
| | | | |
| Marini beach | Hotel Monte Callini | San Gregorio Bay | Pescoluse Beach |
Additional information
Getting to Patù




By air: The Airport of Salento in Brindisi is located 128Kms away from Patù. It is reached with direct flights from major European cities:

Ryan Air flies to Brindisi from Bologna, Bruxelles Charleroi, Eindhoven, Girona Barcelona, London Stansted, Milano Bergamo, Parigi Beauvais, Pisa, Roma Ciampino, Stockholm Skavsta, Turin and Venice Treviso
EasyJet flies to Brindisi from Basel-Mulhouse-Friburg , Geneve, Milano Malpensa and Paris Orly.
Alitalia flies to Brindisi from Milano Linate and Rome Fiumicino.
Air Berlin flies to Brindisi from Munich and Zürich.
German Wings flies to Brindisi from Stuttgart.
Helvetic airways flies to Brindisi from Bern and Zürich.
Vueling flies to Brindisi from Rome Fiumicino and Barcelona.

Moreover new flights are added every year. A second option is to fly to Bari which is 246Kms far from Patù.
By train: Fast train reach Lecce Station from Rome, Milan, Bologna, Venice and other Italian cities. From Lecce one can either arrange for pick up or can take a train to Gagliano-Leuca with the Ferrovie del Sud Est. Once you are in Gagliano-Leuca taxis can be use to get to San Gregorio.
By car: Roads are very good in Puglia and in particular Patù can be reached from Salento Airport in approximately 75 minutes. At the airport all major car rentals have their outlets and special deals will be organized for the conference.
Hotels nearby



The list below includes most of the hotel in the area.

SAN GREGORIO AREA
Hotel Magna Grecia (3 stars - 1.5km from the conference venue)
Indirizzo: Via Magna Grecia, 73053 Patù Lecce
Phone +39 366 950 6287
web site

Volito Hotel & Resort (4 stars - 1.5km from the conference venue)
Info & Booking:
Cell. (+39) 342 6270493
Fax: (+39) 0833 752388
E-mail: info@hotelvolito.com
web site

Agriturismo il conte (2.5km from the conference venue)
Indirizzo: Contrada Monache, Patù Lecce 73053 Italia
Cellulare: +39.347.13.64.334
Telefono: +39.0833.765057
Email: info@agriturismoconte.it
web page

PATÙ
Masseria La Verna Agriturismo (5km from the conference venue)
Indirizzo: Via Enrico Fermi, 73053 Pa
Cellulare: +39 328.8762796, +39 329.1476882
Email: info@lavernaagriturismo.it
web page

TORRE VADO (close to the beach)
Cala Saracena Resort (4 stars - 4.5km from the conference venue)
Indirizzo: Corso Venezia, 73040 Torre Vado LE
Telefono: 0833 711472
web page

Albergo Ristorante Pizzeria Al Porticciolo (3 stars - 4.3km from the conference venue)
Indirizzo: Via Lungomare Cristoforo Colombo, 28, 73040 Morciano di Leuca LE
Telefono: 0833 711515
web page

Hotel Albatros (3 stars - 5km from the conference venue)
Indirizzo: Corso Venezia, 12, 73040 Torre Vado, Morciano di Leuca LE
Telefono:0833 712174Albatros
web page

MORCIANO DI LEUCA
Complesso Turistico Alberghiero Delle Rose (3 stars - 4.3km from the conference venue)
Indirizzo: SP190, Morciano di Leuca LE
Telefono: +39 0833 182 6288
web page

Agriturismo Voioro
Via Iori, 73040 Morciano di Leuca (Le)
Cell. 329.2552795
email: info@agriturismovoioro.it